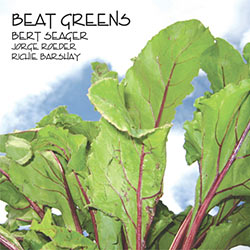 Tracks:
Dearly Beloved (Mercer/Kern) 9:12
The Girl From Ipanema (Jobim/DeMoreas) 5:47
Bye Ya (T. Monk) 6:40
Summer Night (Dubin/Warren) 8:25
Bach's Lunch (Seager) 7:15
I Remember You (Mercer/Shertzinger) 6:01
Open Book (Seager) 6:05
Bleeding Heart (Seager) 8:08
All or Nothing at All (Altman/Lawrence) 9:42
Copyright 2007 All rights reserved
Personnel:
Bert Seager piano
Jorge Roeder bass
Richie Barshay drums
The CD features musicians whom I have been playing with regularly here in Boston for the past two years, Jorge Roeder on bass and Richie Barshay on drums. Impelled by the rhythmic imagination of these two players, who are half my age, the music has a new sense of drama, color possibilities and power.
It is worth noting that Richie, our drummer, is now a member of Herbie Hancock's Quintet. Richie has a unique sound and approach to drumming that is obvious almost from the first notes of this recording. Richie, and bassist Jorge Roeder, graduated last year from the New England Conservatory of Music, where they played together in countless ensembles, projects and recordings. I have played with Jorge almost every weekend for the past three years and it is quite clear to me that both of these young musicians are rising stars with original voices. We have become close friends and we share a sense of play in this music we make together.
The recording was made at WGBH Studios on a very fine Steinway piano and recorded beautifully by Antonio Oliart Ros. The sound is natural, clean and spacious.