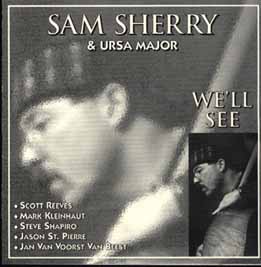 Tracks:
The Well
Giant Footprints
Beautiful as a Rose
Kids
G'night Again
Mutatis Mutandis
Back to Back
Earl's Pearls
It's Time
Personnel:
Sam Sherry, bass
Scott Reeves, trombone alto flugelhorn
Mark Kleinhaut, guitar
Steve Shapiro, vibraphone
Jason St. Pierre, saxophone
Jan Van Voorst Van Beest, drums
All compositions by Sam Sherry
Copyright 2000 Curly Music Workshop
Reviews of We'll See
We'll See is a collection of melodic modern jazz compositions featuring Sam Sherry's acoustic bass. New Yorkers Steve Shapiro (vibes) and Scott Reeves (trombone and alto flugelhorn) join some of Maine's finest in exploring nine original pieces composed by bassist Sherry. The music ranges from latin romps to quiet ballads to straight-ahead jazz.
Liner notes to We'll See
Even jazz aficionados don't expect bass players to lead the band, Charles Mingus, Ron Carter and Jaco Pastorius not withstanding. And when you are done listening to We'll See, Sam Sherry may be the least likely musician in his sparkling sextet to have leaped out at you. Sherry takes his share of solos, but even these parts eventually integrate into the whole. Yet his playing is the absolute bedrock upon which all nine songs rest. Oh yes, and he did write all of these songs, generously providing playing space for his five companions in the process.
Sam is the first to say that these players awesome talent is what drives every composition. His rhythm partner, percussionist Jan Van Voorst Van Beest, displays a subtle, supple touch that stretches from cocktail jazz to funky. Vibraphonist and New Yorker Steve Shapiro – whose production credits include Michael Brecker and Phil Collins, and who has played with Bob Moses and David Samuels – adds shimmering moods,beautifully playing off complementing guitarist Mark Kleinhaut. Sherry's long-time musical partner, Kleinhaut plays with a gentle yet confident tone that dovetails smoothly with the others, yet speaks in its own voice.
You might think that a group featuring two horn players South Portland saxophonist Jason St. Pierre and New York based Scott Reeves on trombone and alto flugel horn would sound horn driven, but not here. More often it's the vibes that take the lead (on, say, Mutatis Mutandis), with the horns filling or taking brief, effective solos.
In the end, it all comes back to the music, and We'll See is, above all else, an excellent collection of songs. Whether or not you can directly hear the influence of Sherry teachers (primarily Michael Moore, as well as Jaki Byard, Gary Karr and Lelan Tolo) is irrelevant. The test of this record is whether or not it engages you, moves you to some place where the quiet is not deafening, where the noise is a balm. Would that I had We'll See to listen to the first time I met Sam Sherry…
-Bennie Green, Editor, Face Magazine