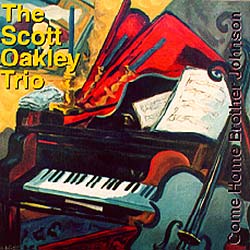 Tracks:
No !, Yes
Raucous, Sexy, Smart
Like Someone in Love (Jimmy Van Heusen, Johnny Burke)
Faith , Love, Charity, Etc.
Come Home Brother Johnson
Spring Can Really Hang You Up the Most (Frances Landesman, Thomas. Wolf)
Braces on a Blonde
Here's that Rainy Day (Jimmy Van Heusen, Johnny Burke)
Ballad of Lonesome Dove
Look Forward With Compassion
Have You Met Miss Jones (Richard Rogers, Lorenz Hart)
Lyden's Line
Sidney Serenade
Lloyd's Long Tones
Just in Time (Jule Styne, Adolph Green, Betty Comden)
Suicide is Painless (Michael Altman, John Mandel)
Personnel:
Scott Oakley, piano
Jim Lyden, bass
Tom Patton, drums
Come Home Brother Johnson, demonstrates pianist, Scott Oakley's depth as a composer. His complex compositions range from the hard driving to ballads of delicate beauty. And his command of the instrument allows him to explore his compositions with improvisations of sparkling clarity.
Backed by long time collaborators Jim Lyden (bass), and Tom Patton (drums), Scott was delighted to have the opportunity to document this particular trio. Although they had not played together for some time, they had forged such a level of interaction on the bandstand, during their days playing at Little Willies, that the same rapport was easily realized in the studio.
Come Home Brother Johnson, with a total running time of 69 minutes, features ten original compositions by band leader Oakley as well as six complementing selections from the "standard" jazz repertoire.