Don Doane and The Super Senior Sextet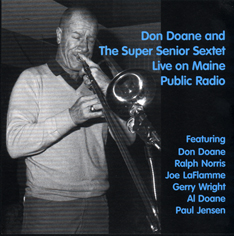 Tracks:
B. T.'s Blues (for Bill Torrey)
Line for Lyons
A Dream Is A Wish Your Heart Makes
Where or When
Filthy McNasty
Nuages
If I Only Had a Brain
Moanin'
Four Brothers
Blues Up and Down
I'll Never Be the Same
Personnel:
Don Doane trombon

(tracks 3 & 4)

Ralph Norris saxophonese and guitar
Joe LaFlamme saxophones
Gerry Wright piano
Al Doane bass
Paul Jensen drums
By now you've heard it all regarding Don Doane. He was a member of bands led by Woody Herman, Bobby Hackett, and Maynard Ferguson. Don, a local big band and dance band leader for many years, was founder of the Bridgeway Jazz session. Don Doane has directly or indirectly influenced a whole generation of players, his impact on the local music scene is profound. As a public school band director, he has enabled literally thousands of kids to enjoy music performance as an avocation. While many educational philosophies espouse egalitarian ideals, Don was one of the few teachers who could put them in practice and still produce a band that could play. To the student whose goal was a career in music he gave a massive dose of "reality therapy" in addition to rigorous training. We respect Don most for his example: he is a superb athlete, family man, educator, and thinker. He is a complete musician, playing excellent piano, guitar as well as trombone, and though he probably won't admit it, he has a great voice. His work ethic is legendary and many anecdotes about him serve as instructional parables for the next generation of musicians. They are also entertaining! How can you adequately thank a guy who has blasted so many stereotypical images the public often holds of musicians? He's an artist without being a weirdo, he's dedicated without being obsessed and he's pursued perfection and mastery without hurting people in the process. In fact, Don Doane still continues to benefit others.
-Gil Donatelli, Terry White and Tony Boffa