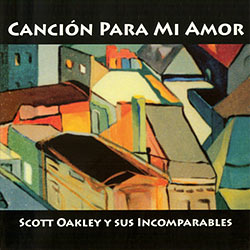 Tracks:
Para Pupi

Audio clip: Adobe Flash Player (version 9 or above) is required to play this audio clip. Download the latest version here. You also need to have JavaScript enabled in your browser.

Mi-Peruchin-Descarga2

Audio clip: Adobe Flash Player (version 9 or above) is required to play this audio clip. Download the latest version here. You also need to have JavaScript enabled in your browser.

Para Becky

Audio clip: Adobe Flash Player (version 9 or above) is required to play this audio clip. Download the latest version here. You also need to have JavaScript enabled in your browser.

Al Estilo De Cesar 'Pupi' Pedroso// In the Style of Cesar Pupi Pedroso
Cancion Para Mi Amor// Song For My Love
Mi Peruchin Descarga #1// My Peruchin Jam #1
Eu Procurarei-o Por// I Have Searched for You
La Pregunta De Tres Dos//The Question of Three Two
Corremos, despues Saltamos// Run, then Jump
Ojos de Opal//Eyes of Opal
Persigueindo el Bajo//Chase the Bass
Cha Cha Cha en Cinco//Cha Cha Cha in Five
Las Perlas Caen en el Plato de Jade// The Pearls Fall on the Plate of Jade
Personnel:
Scott Oakley piano
Rigoberto Lopez bass
Raul Pineda drums
Bob Fernandez percussion
James King tenor sax and flute
The release of Canción Para Mi Amor by Scott Oakley Y Sus Incomparables is a major musical event for it features a new band playing an exciting brand of Cuban jazz. Rather than performing the usual Latin jazz songs in the usual manner, the group interprets 13 new compositions by its leader-pianist Scott Oakley that are full of fire, exciting Cuban rhythms and heated jazz improvisations.
The genesis of Canción Para Mi Amor occurred in 2005. "I happened upon the Afro-Latin program at Cal State LA and started working towards my Masters," remembers Scott Oakley. "The last few years have really been consumed by my new interest in Cuban music. Through constant study with Paul De Castro, the director of the program at Cal State L.A., going through the introductory process of learning about montunos, about clave, and how to apply clave in my playing and writing, I was so inspired that I began to write songs. Before I knew it, I had five tunes written, and couldn't stop writing. I wrote 15 songs in two years. As I approached the end of the program, I realized that I had a perfect recital program lined up. Paul suggested that I put together an all-star band. We rehearsed the tunes, played them at the recital, and then went into a recording studio. The result is Canción Para Mi Amor."
For this exciting project, Scott Oakley is joined by bassist Rigoberto Lopez and drummer Raul Pineda, both of whom knew each other while living in Cuba. In fact, Lopez was Pineda's teacher at one of Havana's conservatories; the drummer currently teaches at Cal State L.A. Bob Fernandez teaches percussion at Cal State L.A. while tenor-saxophonist and flutist James King is a first call saxophonist for salsa bands in Los Angeles.
"I think what we have on this record is something very different than one has in a normal Latin jazz band," says the pianist. "It is very energizing music that is totally accessible to jazz fans. The music constantly uses montuno in the blowing sections and the originals are based on Cuban song forms. My favorite selections are 'Mi Perucin Descarga #2,' 'Al Estilo de César 'Pupi' Pedroso,' 'Eu Procurarei-o Por,' 'Para Pupi' and 'Los Perlas Caen en el Plato de Jade.'" The playing on all 13 originals is consistently passionate and, with the stirring team of Lopez, Pineda and Fernandez pushing the lead voices, the results are quite memorable.