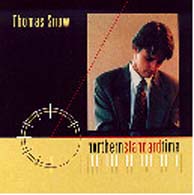 Tracks:
Puttin' on the Ritz (Irving Berlin)
Stardust (Mitchell Parish, Hogey Carmichael)
The Happy Canister (Steve L'Heureux)
Lullaby of Birdland (George D. Weiss, George Shearing)
Moonglow (Will Hudson, Eddie DeLange & Irving Mills)
What is This Thing Called Love (Cole Porter)
Polkadots and Moonbeams (J. Burke, J. Van Heusen)
Who Can I Turn To (Leslie Bricusse)
I Thought About You (J. Mercer, J. Van Heusen)
What Are You Doing For the Rest of Your Life (Bergman & Legrand)
on Green Dolphin Street (Brawnislaw Caper, Ned Washington)
A Nightengale Sang in Berkley Square (Eric Maschewitz, Manning Sherwin)
Personnel:
Thomas Snow, piano
Josh Davis, acoustic bass
Don Doane, trombon
Rick Gordon, alto saxophone
Jim Howe, acoustic bass
Steve L'Heureux, trombone, flute
Ralph Norris, tenor saxophone
Phil Verrill, drums
Pianist Thomas Snow's inventive arrangements of standardshave been wowing audiences and critics. Northeast Performer Magazine's Jonathan Babu says "Snow's playing is a lesson in Jazz sensibility." The CD is a testament to Snow's mastery of his instrument and his skill as a complex and deft arranger. The opening track, "Puttin on The Ritz" is put to a start/stop Latin groove, and by the time the trio burns into the Montuno one realizes the arrangement is anything but standard.
Snow, while no stranger to the studio, had not recorded as leader of his own group. On Northern Standard Time, Tom demonstrates his ability as leader; he galvanizes the creative energies of some of the area's most venerated jazz players (Phil Verrill, drums; bassists Josh Davis and Jim Howe; trombonists Don Doane, and Steve L'Heureux; Ralph Norris and Rick Gordon on reeds) for some memorable performances.