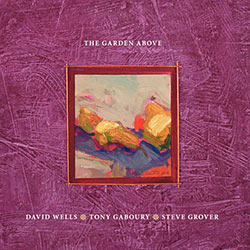 Tracks:
Rise and Shine (David Wells) 5:19
Do I Love You (Cole Porter) 7:10
33 Degrees (David Wells) 4:44
Big Foot (Charlie Parker) 5:16
The Waiting Game (David Wells) 8:09
The Garden Above (David Wells) 5:03
The Freedom Suite Part I (Sonny Rollins) 5:58
The Freedom Suite Part II (Sonny Rollins) 7:12
The Freedom Suite Part III (Sonny Rollins) 2:51
The Freedom Suite Part IV (Sonny Rollins) 7:51
Personnel:
David Wells, tenor saxophone
Tony Gaboury, guitar
Steve Grover, drums
On October 31, 2006 Invisible Music Records will release the debut CD of the jazz collective featuring David Wells, Tony Gaboury, and Steve Grover entitled "The Garden Above". This recording features original compositions, standards, and jazz compositions, including a unique interpretation of Sonny Rollins extended piece entitled "The Freedom Suite". The music of this trio is at times spacious, swinging, free, textural, intimate and always melodic.
Jazz critic Steve Feeney writing for Up Beat Magazine says of this latst IM release. "This music is where their hearts are…The Garden Above is an album of real depth…[an] adventurous release by three veteran musicians who have reached a new level of individual and collective freedom."- Up Beat, 10/06
David Wells, tenor saxophone
:
Originally from the San Francisco Bay area, saxophonist David Wells is a bright light on the Maine jazz scene. He has performed with Rosemary Clooney, Joe Henderson, Jerry Bergonzi, Bob Mintzer and other artists. Prior to moving to Maine in 2002, David was living in London, participating in the jazz scene there. Since moving to Maine, David has been teaching and performing in the wider New England area. He currently resides in Westbrook, ME.
Tony Gaboury, guitar:
Tony is a highly regarded guitarist and educator currently teaching at The Berklee College of Music. He has performed with many jazz artists, including Bruce Saunders, George Garzone, John Patittucci, Chris Potter, and many others. Tony's own CD "Empathy" is on Invisible Music Records. He resides in Portland, ME.
Steve Grover, drums:
Steve has led jazz groups in the New England area since the mid 1980's. A Maine native, he teaches at The University of Maine at Augusta, Bowdoin College and Bates College. In 1994, Steve won the Thelonious Monk Institute of Jazz/BMI Jazz Composers Competition, and in 1996 was a winner in JAZZIZ Magazine's "Percussion On Fire" talent search. Steve has released five CDs to critical acclaim, with reviews appearing in Down Beat, JazzTimes, and Cadence magazines. In addition to performing with his own groups and with clarinetist Brad Terry, Steve has performed with Eddie Gomez, Chris Potter, Greg Tardy, Jerry Bergonzi, George Garzone and many others. Steve lives in Farmingdale, ME.