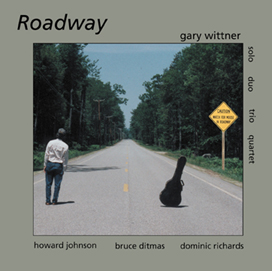 Tracks:
Thelonious (6:44) -Thelonious Monk
Chompers (6:08)
Short Little Peace (8:39)
Release Me (3:22) -E. Miller, R. Young, D. Williams
Squeaky (4:31)
Criss-Cross (4:46) -Thelonious Monk
Crepiscule With Nellie (3:12) -Thelonious Monk 8. Roadway (8:53)
John Brown's Body (3:45) -Traditional
Another Moment in the Past (5:05)
Big Forehead (4:09)
I'm So Lonesome I Could Cry (3:50)
Year's End (7:37)
Personnel:
Gary Wittner guitar
Howard Johnson tuba (1,6,8,10)
and contra-bass clarinet (2,3,11,13)
Bruce Ditmas drums
Dominic Richards acoustic bass
"This (Roadway) is the best attempt I've yet heard of a guitarist capturing the quirkiness and pure eccentricity of Monk's music. If Monk is your bag, you'll love this fine CD. It's obvious that Wittner has digested and lived the music by the quality of his writing, ….. backed by a great band, including the wonderful Howard Johnson on tuba, and some stellar arrangements, this is Monk for guitar at its best. Highly recommended."
–Jazz Guitar International
Gary Wittner's CD, Roadway, released in July of 1999 by Invisible Music, combines all of the elements of Gary's musical life – original compositions, Monk's music, and solo guitar Blues/Folk Americana.
Among the most unique elements of the album are the 5 bassless trios – original compositions performed on guitar, drums, and either tuba or contra-bass clarinet. Howard Johnson (whose performance/recording credits are like a who's who in music: Duke Ellington, Charles Mingus, T.S. Monk, Paul Simon, Gil Evans, John Lennon, The Saturday Night Live Band, The Band, etc.) covers the sonic territory of the bass on tuba or contra-bass clarinet. However, he does so without duplicating the role of the bass, and the result is a more open, freer rhythmic approach. This is augmented by drummer Bruce Ditmas (performed/recorded with Gil Evans, John Abercrombie, Paul Bley, Sam Rivers, Ira Sullivan, Reggie Workman, and many more), who paints a tapestry of rhythms around the guitar and horn, while still laying down a strong groove.
The 3 Monk tunes are performed more traditionally with acoustic bass in quartets with tuba and a duo with the guitar. They clearly show Gary's 2 decades of involvement with this great body of American music .
The three solo guitar pieces are representative of Gary's involvement with Blues/Folk Americana. This connection comes from his first love of Rural Blues (particularly the music of Lightning Hopkins and Big Bill Broonzy). Not a vocalist, Gary has incorporated this style in a fascinating way – he has created instrumental arrangements of Folk and Blues tunes using the guitar style of the blues masters, and then adding the harmonic and rhythmic sense of Monk. The result is a style that Gary refers to as "Big Bill Broonzy meets Thelonious Monk". In his travels to universities throughout the world, Gary always includes a few of these pieces in his concerts, and they are a huge crowd pleaser. On Roadway, this style is represented by "Release Me", "John Brown's Body", and "I'm so Lonesome I Could Cry".
The Roadway seems, to me, a perfect metaphor for our human experience- relationships, personal development, careers, etc. passing through decades. It's all coming from someplace and going somewhere else. In the long run, maybe where we wind up isn't as important as how we get there. Enjoy the ride…
-Gary Wittner
What's being said about Roadway (IM-2014)
* "…exceptionally well played (with the occassional support of bass clef specialist Howard Johnson) and often fascinating."-Jazz Times
* "…every note, however surprising, has its logic." —Jazz Improv Magazine
* "…a cohesive group feeling that is magical…the musicians are consistently of one mind in the ensemble and strikingly individual as soloists. There are "bass-less" masterpieces, altissimo tuba and eerie bass clarinet solos by Johnson, Wittner's delightfully quirky compositions and three pricelss solo guitar pieces." —Capital Weekly
* "…Wittner has produced a work both entertaining and thought-provoking as he re-examines Monk and country blues while developing his own compositional style…Wittner's playing style is well-formed and consistent, allowing him to move deftly between his own tunes and those of Monk and Hank Williams without jarring the listener a bit….Wittner excels at rethinking the classics, taking formerly simple arrangements and adding modern tonality while deconstructing both the melody and the form" —Bangor Daily News
* …a unique, lasting listening experience. — All Music Guide
* "… you can pick any one of the songs and find something that makes you want to go back and listen again, if for no other reason than to puzzle out the question, how did he do that?….The casual jazz listener may be put off by the range of material Wittner attempts, but the rewards of Roadway are ample if you stick with it." —Face Magazine
* "…full of thought-provoking inventiveness and humor. Wittner has a unique command of the guitar which is a wonderful, unifying presence on this recording. Add to his voice the unique virtuosity of Howard Johnson's tuba and contrabass clarinet and the sensitive drums and bass of Bruce Ditmas and Dominic Richards, and the result is a concept like no other. Wittner is an expert performer of Monk's music, and his original compositions reflect Monk's influence on him as a guitarist….His live solo guitar performances of "Release Me" and "I'm So Lonesome I Could Cry" are a treasure." —David Demsey, Contributing Editor – Jazz Player Magazine; Chair, Jazz Dept., William Paterson University