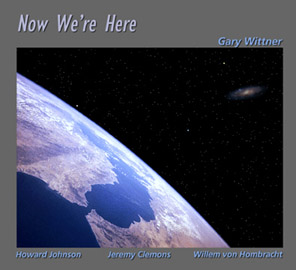 Tracks:
Thelonious (6:44) -Thelonious Monk
Chompers (6:08)
Short Little Peace (8:39)
Release Me (3:22) -E. Miller, R. Young, D. Williams
Squeaky (4:31)
Criss-Cross (4:46) -Thelonious Monk
Crepiscule With Nellie (3:12) -Thelonious Monk 8. Roadway (8:53)
John Brown's Body (3:45) -Traditional
Another Moment in the Past (5:05)
Big Forehead (4:09)
I'm So Lonesome I Could Cry (3:50)
Year's End (7:37)
Personnel:
Gary Wittner guitar
Howard Johnson tuba (2,5,8)
and contra-bass clarinet (4,10)
Jeremy Clemons drums
Willem von Hombracht acoustic bass (1,3,4,6,9)
"Wittner and Johnson negotiate the convolutions of 'Four In One' with consummate ease, the clarinet swerving around the guitar's chords before taking off on a solo that is dexterous, purposeful and playful all at the same time.Wittner is well versed in Monk and his guitar style, as far as is musically or humanly possible, suggests an empathetic parallel to the pianist's idiosyncrasies." -ejazznews.com
-ejazznews.com
Invisible Music presents the release of Gary Wittner's newest CD, Now We're Here (IM-2032). This recording once again finds Gary in the company of low end specialist Howard Johnson, who for decades has graced the albums of Miles Davis, Gil Evans, John Scofleld, Taj Mahal, John Lennon, The Band and many more. Here, Johnson's tuba and contra-bass clarinet playing contribute to the unique bass-less trio (with guitar and drums) that comprises nearly half of the CD. Now We're Here was recorded while the band was on tour in 2003 and has that strong, solid feel that only a touring group can generate. As in his previous CD, the repertoire represents Gary's eclectic musical influences – 7 originals including a reggae tune (Fun at the Factory), a shuffle (Second Thoughts), and a multi-sectional avante-funk (Faster, Smaller, Cheaper, Better), one solo guitar piece in the blues tradition (My Country 'Tis of Thee/We Shall Overcome), and 2 compositions from the Monk repertoire. The latter are among Monk's least-recorded gems – both "Four In One" and "Ugly Beauty" were recorded by Monk only once. Wittner's relationship to Monk's music is well known – he has presented all-Monk concert/lectures internationally, performing with Clark Terry, Christian McBride and many others (see www.garywittner.com for more info).