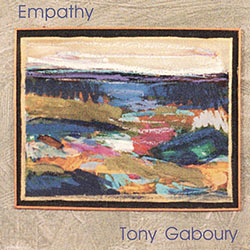 Tracks:
Open Door (11:27)
Empathy Steve Grover (8:38)
Art Advocate Steve Grover (6:42)
Rain (4:58)
Emma Steve Grover (6:20)
Flowers (7:05)
In the Dark (6:39)
Personnel:
Tony Gaboury, guitar
Steve Grover, drums
Aaron Goldberg, piano
Chris Van Voorst Van Beest, bass
Rob Stillman, saxophone
All compositions © 1999 Tony Gaboury, except those noted
Liner Notes from Empathy:
I first met Tony Gaboury in 1977 at a session I had put together with pianist Mark Perry at a small recording studio. Tony came along with the bass player I had invited. We played for a few hours- standards and jazz tunes- and I asked for his phone number so that we might play again. I don't think he said one word all evening.

We have ended up playing together in various situations over the next twenty-some-odd-years. Tony is someone I have come to know quite well, and I can now say that I have come to know a very articulate, intelligent man with well thought out opinions about lots of things, including music and definitely including baseball. Not only have I come to know the ex-baseball player, the proud father of daughter Emma, and the excellent amateur tennis player, I have also come to know a continually evolving, creative musician who might be the most important jazz guitarist that nobody knows about. Tony, like myself, has spent most of his life in the state of Maine, a very beautiful place that is not, unfortunately, the center of jazz (except for maybe a period from '90-'93, when the Café No was open). And although many excellent- and a few innovative- jazz musicians have hailed from Maine, not many have stayed to pursue their music.
Tony learned jazz as a young man from lessons with guitarist Tony Boffa, and from transcribing the recordings of all the jazz guitar greats, most significantly Pat Martino. Later came guitar influences from Lenny Breau to John Abercrombie, and from the rest of the jazz diaspora- Miles, Coltrane, Charlie Parker – and from the world of classical music, including the Italian operas. Tony also has degrees from the University of Maine and Goddard College, where he studied for his Master's degree by transcribing Wes Montgomery's Riverside recordings. But unlike many musicians, Tony has gone through his influences to arrive at his own way of speaking the jazz language. His clear articulation, uncliched vocabulary ( including a subtle blues sensibility), pure sound and affinity for rhythm are the result of an original thinker. Moreover, he has a deep understanding of harmony, enabling him to play melodically over the often dense harmonic challenges presented by the compositions in this album.
Tony downplays his identity as a composer, but he probably has a hundred tunes sitting in some box somewhere, because the four pieces on Empathy are the work of a mature musician- every one a gem. All of these compositions were originally settings for Robert Creeley poems, and though one longs to hear them sung, they are just fine as instrumentals. Tony is a romantic at heart, and his music reflects this tendency. So it is fitting that his debut CD is full of a deep romanticism, at once modern and timeless and rendered with tenderness by Tony and the wonderful musicians performing with him, and myself. Pianist Aaron Goldberg is a rising jazz star currently with Joshua Redman; Rob Stillman on tenor and Chris Van Voorst Van Beest on bass are both originally from Maine and part of a select young group of creative musicians who will carry the music into the future.
As for my own contributions, I am, of course, deeply gratified that Tony has chosen to include four of my own tunes, and it's always a pleasure to play with such fine musicians. May this be the first in a long line of Tony Gaboury recordings, evidence of a master jazz guitarist whose time is now.
–Steve Grover 6/20/99