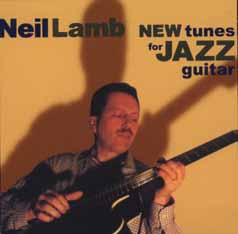 Tracks:
Whitetail 6:12
Family Portrait Suite 10:21
Restless Gentlemen 5:27
Children's Halloween 3:30
The Old Poacher 4:31
Moving Voices 4:06
Longing 3:48
Seven String Boogie 2:45
Itchy and Scratchy 4:00
Cascade 2:13
Personnel:
Neil Lamb guitars

Dave Herzfeld drums

(tracks 2, 4, 10)

Jim Lyden bass

(tracks 2, 4, 10)

Mark Kleinhaut guitar

(track 10)
All compositions by Neil Lamb copyright 2001
For Concerts and Bookings contact:
Neil Lamb at www.neillambmusic.com
tel. 207.729.8732 email nl@blazenetme.net
"Lyrical and melodic….He is an inventive guitarist with the right mix of
energy and temperance."
–Frank Rubolino, (Cadence Magazine)
On New Tunes for Jazz Guitar (IM-2019), guitarist Neil Lamb demonstrates his skills as a composer as he leads the listener through a program that includes well crafted solo pieces all recorded with out overdubs, an aching duet "Longing" where he performs both parts, and some ensemble pieces that provided him an opportunity to bring together a few of his musical friends to explore the art of spontaneous composition. Neil Lamb has created a CD with a broad range of original Jazz guitar pieces—everything from the traditional sound of, "Family Portrait Suite" to the experimental "Restless Gentlemen". While stylistically diverse, the unifying element throughout this and all of Lamb's work is the strong melodic element, the "tunes". They are present in the heads, in the solos, and even in the chordal accompaniment. The result is a fascinating journey into the mind of this inventive guitarist.
Street Date 6/26/01
Review by Bangor Daily News
Saturday, 06/01/2002
Edition: all, Section: e, Page 1
"New Tunes for Jazz Guitar" (Invisible Music) – Neil Lamb
Ever have a friend who was brilliant, witty, encyclopedic in knowledge, galactic in interests, prone to hyperactivity and who, as a result, drove you nuts?
If that friend was a guitarist and composer, he would be Neil Lamb.
Lamb's "New Tunes for Jazz Guitar" is, like an over-caffeinated genius on a full-tilt stream-of-conscious jag, all over the place in a way that is fascinating and maddening (although repeated listenings give a decided edge to fascinating).
Whether holding a guitar – the seven-string is his instrument of choice – or a pen, Lamb (a native of Brunswick, by the way) takes chances.
The first track is illustrative. "Down the Mountain" begins with a descending arpeggiated figure, suggesting a reflective, mood-setting opener. That figure, and the six that follow, soon accelerates out of control, as if gravity could take hold of notes. It's a subtle warning that listeners should hold on to their hats for the 12 tunes that follow.
There's a funky shuffle that threatens to break into a sprint. A couple of sweet, exquisitely voiced ballads that aren't the least bit afraid of getting emotional. Some electronics-driven free-form improvs. A big, acoustic-pounding folkie thing. Rockabilly. Road rage set to music. The atonal, arhythmic, amelodic "Itchy and Scratchy," Lamb says, is a "soundtrack for a humorous and violent cartoon." Given his studies in modern composition, he could just as well have said it was what would have happened had Schoenberg played guitar and hung out with drummers and bass players.
The drummer here is Dave Herzfeld; Jim Layden's on bass. They're not given a lot to do on this record, but they know how to pick their spots and shine when opportunities arise. Mark Kleinhaut, another amazing Maine-based guitarist, joins Lamb for a duet in "Footsteps to Freedom."
"New Tunes for Jazz Guitar" is another quality release from Invisible Music, the Topsham label that's putting together a gem of catalogue. Check them out at www.invisiblemusicrecords.com. – Bruce Kyle