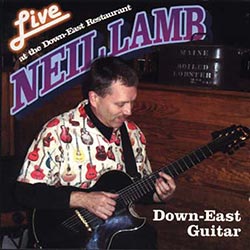 Tracks:
The Shadow of your Smile* – J. Mandel, P. Webster (5:00)
So What*- Miles Davis (5:53)
They Can't Take That Away from Me* – (3:20) G. & I. Gershwin, arr. George Van Eps and Neil Lamb
Take the A Train* – Billy Strayhorn (5:07)
Misty* – Erroll Garner arr. H. Morgen (2:11)
Stars Fell on Alabama*- Perkins, Mitchell arr. K. Poole (5:31)
Mercy Mercy Mercy*- Joe Zawinul (4:10)
A Foggy Day in London Town* – G.& I. Gershwin (4:52)
Georgia* – H. Carmichael (5:00)
Finger Blues – Neil Lamb (4:08)
Beautiful Dreamer* – S. Foster (2:49)
Smotth…Happy – Neil Lamb (3:34)
What is This Thing Called Love* – Cole Porter (6:52)
Personnel:
Neil Lamb guitars

Dave Herzfeld drums

(tracks 2, 4, 10)

Jim Lyden bass

(tracks 2, 4, 10)

Mark Kleinhaut guitar

(track 10)
* Songs Used By Permission
Finger Blues, Smooth…Happy, and Whirling
Composed by Neil Lamb copyright 2003, All Rights Reserved
For Concerts and Bookings contact:
Neil Lamb at www.neillambmusic.com
tel. 207.729.8732 email nl@blazenetme.net
Neil Lamb's fifth CD Live at the Down-East Restaurant (IM-2028), released on the Invisible Music jazz label, was recorded at the Down-East Restaurant in Yarmouth, Maine where Neil has a standing Thursday night gig. On This CD Lamb hass successfully married his three loves: playing solo jazz guitar, tunes from the Great American Songbook, and creating the perfect ambience. Using a seven-string guitar with an extra low A string that allows him extended range in the lower register, he creates a wonderfully intimate mello sound perfect for drawing the listener in and for setting a mood that is sophisticated and romantic. The music ranges from the classic Tea for Two, funky versions of So What and Mercy, Mercy, Mercy, to the lullabyesque rendition of Beautiful Dreamer, whatever the selection Neil Lamb distills the tune down to its essence, and the result is a program of gems beautifully rendered.
"I have been playing Thursday nights at the Down-East Village Restaurant for some time now….Playing for diners calls for a simple approach that I really enjoy: the music must appeal to a wide audience, but there is still plenty of room for improvisation….The tracks on this CD are my favorite versions of each song." –Neil Lamb (excerpted from the liner notes of Down-East Jazz Guitar)