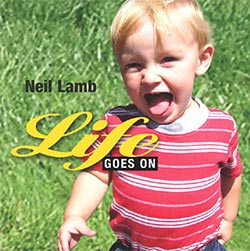 Tracks:
Summer Breeze – Neil Lamb
Paper Moon* – Harburg, Arlen, Rose w/ adl. Lyrics by Neil Lamb
The Girl from Ipanema – Jobim, De Moreas, Gimbel
Skylark* – Carmichael,Mercer
Working Man – Derry Jones, Neil Lamb
Jumpin' at the Woodside/ In the Mood* – Basie/Garland
Foolish Pride – Neil Lamb
Donna Lee* – Charlie Parker
Whitetail – Dave Herzfeld, Neil Lamb
Late For Dinner – Dave Herzfeld, Neil Lamb
Life Goes On – Neil Lamb


Neil Lamb, Solo Seven String Jazz Guitar and vocals
* Songs Used By Permission
Neil Lamb copyright 2006, All Rights Reserved
For Concerts and Bookings contact:
Neil Lamb at www.neillambmusic.com
tel. 207.729.8732 email nl@blazenetme.net
Jazz guitarist Neil Lamb, in his ever expanding musical quest explores the world around him through music. And while his academic degree is in Classical composition, he has performed in rock and country bands, in avant garde free style jazz groups, focused his attentions on the early masters of jazz and Americana, and now is exploring mainstream traditional and modern jazz. Lamb developed his own solo guitar style during these focused explorations, he plays 7-string guitar fingerstyle achieving a full sound not unlike that of a solo piano. He has combined his varied musical interests to create music that is rhythmic, melodic and with just a touch of quirkiness to continually surprise the listener with its inventiveness.
Now on his latest solo recording Life Goes On (Invisible Music 2007) Lamb juxtaposes some lovely arrangements of familiar jazz standards with his own compositions. (He debuts as a vocalist here) His tunes are honest, mature and anyone who has been in a relationship for more than five minutes will connect with them. The music of Life Goes On is jazz with a singer-song writer vibe, and a pop sensibility. Neil Lamb wants to reach people, for him connecting with an audience through the shared enjoyment of sounds and emotions is more fun and more important than showing how clever he can be at playing the guitar. He is a romantic (in the classical sense) preferring music that is often pretty with clear singing melodies, and his lyrics distill a relationship down to it's essence with a few carefully crafted phrases.