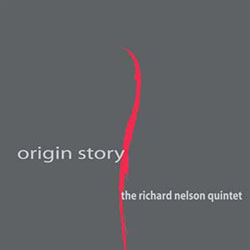 Tracks:
Origin Story (Richard Nelson) BMI (15:00)
Bloated Hawks: Dick Cheney,We Will Pay for this Arrogance (Richard Nelson) BMI (9:37)
Frankie Newton (Don Stratton) (5:02)
Sound Around (Richard Nelson) BMI (9:27)
Spacetime Foam (Richard Nelson) BMI (11:55)
I Know Noble Accents (Steve Grover) Young Grover Music/BMI (11:32)
Personnel:
Richard Nelson-guitar
Don Stratton-trumpet
Tim O'Dell-alto saxophone
Sam Sherry-bass (1,2,3,4,6)
Greg Loughman-bass (5)
Steve Grover-drums
Origin Story, guitarist/composer Richard Nelson's second album on the Invisible label, brings together an outstanding quintet of Maine-based musicians to play his progressive, exploratory compositions. Ranging from the free-bopper "Sound Around" and the political satire "Bloated Hawks" to the artful integration of composition with structured and free improvisation in the title track, the group's empathetic, interactive qualities are evident throughout. The outstanding veteran trumpeter Don Stratton contributes a composition, as does drummer Steve Grover. Saxophonist Tim O'Dell and bassist Sam Sherry complete this engaging ensemble. As a follow-up to his straight-ahead trio album Figurations, Origin Story reveals a more compositionally complex and progressive side of Nelson's musical persona.
Liner Notes
Since settling in Maine some twelve years ago (from Berkeley, via stops in New York and Boston), I have been very fortunate to find here a highly inventive and supportive creative music community. Many of the creative conceptions I have developed over this period have grown directly out of these interactions and associations. I am very happy to have this collection of recordings to represent the outstanding musicians I've had the pleasure of working with here in Maine in the context of my (and their) recent compositions.
Trumpeter Don Stratton, whose youthful, mischievous twinkle belies his veteran status, plays with a seasoned musical maturity and wisdom that inspires and quietly instructs us all. A veteran of the late 1940s and 50s New York and Boston jazz scenes, Don toured with the road bands of Nat Pierce, Glenn Miller (under Tex Beneke) and Claude Thornhill, among others, and he has performed and/or recorded with such figures as Max Roach, Charlie Parker, Gerry Mulligan and Phil Woods. Don was one of the founders of the jazz program at the Manhattan School of Music, and he subsequently taught for more than twenty years in the University of Maine system, mentoring many of the state's top jazz educators. Don has had a distinguished career as a composer as well, writing and arranging in both the jazz and concert music idioms. He is represented here by a piece written in memory of his friend and fellow-trumpeter Frankie Newton. Don's note for this piece reads:
"Frankie Newton was born in Emory, VA, on January 4, 1906. He died in New York City on March 11, 1954. He was a warm, insightful trumpet player; tall, thoughtful, quiet and dignified. Frankie Newton is dedicated to Dean Neal, who premiered it. Dean is not tall." The very talented alto saxophonist Tim O'Dell, who recently moved to Maine from the Chicago area, has recorded several albums including the acclaimed Before My Life, a collection of ten original compositions for sextet. Tim has performed with George Russell, Muhal Richard Abrams and Danilo Perez, among many others. As these notes are being written (and as always), Tim has a number of composition, performance and recording projects in the works.
The outstanding, inventive drummer Steve Grover is also a highly regarded composer. Steve's "I Know Noble Accents" is from his song cycle Thirteen Ways of Looking at a Blackbird (based on the poem by Wallace Stevens) which won the 1994 Thelonious Monk Institute of Jazz/BMI Jazz Composers Competition. His extensive performance history includes performances with Lenny Breau, Tony Malaby and Chris Potter, among others. Steve has recorded five albums of his original material featuring collaborators such as George Garzone, Frank Carlberg and Brad Terry.
The group has enjoyed the musical contributions of a number of fine bassists, among them Sam Sherry (who plays on the majority of these tracks) and Greg Loughman. Sam has appeared with performers such as Jimmy Heath, Alex Foster and Jerry Bergonzi. In Maine, he leads the group Ursa Major, with which he has released an album of his own compositions. Greg is an active Boston-based musician with an album titled A Month of Sundays and recent international performances and recording with pianist Yoko Miwa. Greg, like Don, Tim and Steve, teaches with me in the Jazz and Contemporary Music program at the University of Maine at Augusta.
As for myself, these recordings mark something of an arrival point for me both as a composer and a player. After many years of creative activity in both the jazz and concert music idioms (including graduate study in composition at Indiana and Columbia and fifteen-plus years in the Boston-based Aardvark Jazz Orchestra), I began to find in these pieces a satisfying melding of my composition and improvisation impulses.
The opener and title track, "Origin Story," was something of a breakthrough piece for me in its integration of structured and free improvisation with through-composed material. I think this performance of it nicely captures the collaborative creative process at the heart of this group's efforts, as a web of possible starting points and their imagined resulting tales is spun in both individual and collective musical narratives.
"Bloated Hawks" is a politically conceived piece which I composed in the run-up to the U.S.-led invasion of Iraq in the spring of 2003. I like to think that its parodic portrayal of institutional arrogance and hubris is versatile and, unfortunately, there seems little reason to doubt that it will remain relevant to the activities of those in the corridors of power for some time to come. "Sound Around" is a fun free-bop blowing tune with a particularly graceful solo from Don.
Finally, "Spacetime Foam" is a playful improv piece taking as its inspiration black holes and the intensity of their "event horizons," where, as Kip S. Thorne describes it in Black Holes and Time Warps, "the laws of quantum gravity . . . convert space into a random, probabilistic froth." Improvisation and written passages staged "in the depths of space" lead to "hyper, intense improv at the 'event horizon.'" Then, "universes collide . . . and divide . . . ": one resultant universe is characterized as "active, frolicking," while the other is "spacious, cavernous, elongated." The resulting swirls of activityand a relaxed closing melody steer the piece towards its final gestures.
Richard Nelson
Brunswick, Maine
March 2004