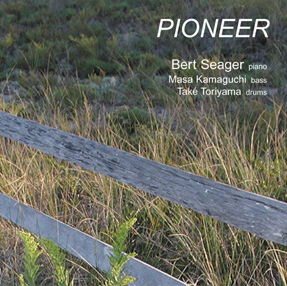 Tracks:
Where Have All The Flowers Gone

Audio clip: Adobe Flash Player (version 9 or above) is required to play this audio clip. Download the latest version here. You also need to have JavaScript enabled in your browser.

Bunny Dune

Audio clip: Adobe Flash Player (version 9 or above) is required to play this audio clip. Download the latest version here. You also need to have JavaScript enabled in your browser.

Pioneer

Audio clip: Adobe Flash Player (version 9 or above) is required to play this audio clip. Download the latest version here. You also need to have JavaScript enabled in your browser.

Blue Yonder

Audio clip: Adobe Flash Player (version 9 or above) is required to play this audio clip. Download the latest version here. You also need to have JavaScript enabled in your browser.

You And The Night And The Music
Trio Improvisation
Joyful Neus
I Should Care
Pioneer (Reprise)
Copyright 2002 All rights reserved
Personnel:
Bert Seager, piano
Masa Kamaguchi, upright bass
Také Toriyama, drums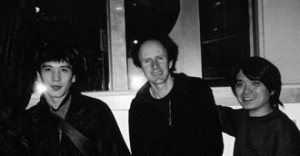 This music invites the listener into a warm and mostly quiet world of lyrical sound. "Pioneer" (release date August 12, 2002) is the fourth trio CD recording of jazz pianist Bert Seager. It was recorded at WGBH Studio by the 2001 Grammy winning recording engineer, Antonio Oliart Ros. The piano used was a seven-foot Hamburg Steinway. The recorded sound is natural, clean and spacious.
Though based in the traditions of jazz piano trio, "Pioneer" has a breathing
conversant quality where interaction rather than role-playing is emphasized.
The time feel is honest and grooving yet open to many possibilities. After performing together for many years, this trio exhibits a playful assuredness that belies their mastery and sophistication.
To purchase "Pioneer" please click on "Online Ordering" or "Mail/Fax Orders" at the top or bottom of this page. The price is $15 and includes shipping and handling in the United States.