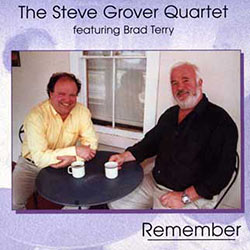 Tracks:
Beginning Again 4:51
Noble Accents 7:36
The Seventh String 7:14
Blues On the Bridge 5:41
Blues For Brad 5:12
Remember 7:58
Ballad For Les 5:47
Theresa Minor 4:55
Dreaming With Thelonious 5:53
All compositions copyright 2000
Young Grover Music All Rights Reserved
Excerpts from the Liner Notes
This original music represents a personal aesthetic with regard to the form of jazz composition, with a strong emphasis on melody and harmony. There are few arrangements framing the song forms. Also, each tune provides not only the framework, but the mood as well.
The title of this album refers to my belief that it's important to remember what one really values about art, in order to move forward with clarity as well as imagination.
Beginning Again is a 28 bar waltz that I think suits Brad's personality.
Noble Accents is part of Blackbird Suite, a song cycle based on a Wallace Stevens poem. It's a tune that Brad likes to play.
The Seventh String, from 1995, is for Lenny Breau, who used to like slow bossa tempos. I was thinking about the way he played Five O'Clock Bells and
Blue Bossa.
Blues On the Bridge is an F blues with some different chords. The title refers to a bridge near where I live that crosses the Kennebec River.
Blues For Brad is something simple I wrote for a grade school jazz combo. For this date, I added some chords to the form. Brad plays on those, while Frank plays on the regular minor blues changes. I dedicate the tune to Brad, because we've done a lot of teaching together over the years.
Remember has a straight 8th type groove. During playback, our engineer Peter asked us if we had ever played any Greek weddings, which kind of sums up the mood Frank got going. I dedicate this to the late Mark Perry: a great pianist and an intense, wonderful person.
Ballad For Les is dedicated to the memory of Les Richards. It starts in Db, but goes all over the place after that!
Theresa Minor is a waltz for my friend Terri Laurie, where, following the bass solo, Frank improvises on the first four bars of each chorus, and Brad answers by playing on the rest of the form.
Dreaming With Thelonious has an obvious reference, and has an AAB form. We
play it trio, and after the piano solo, I play a couple of choruses. Thanks to Frank for the intro/coda, which calls to mind Herbie Nichols.
About the Musicians:
Brad Terry is a musician of great depth and versatility. I met Brad on a gig
in 1974, and we started working together- teaching and playing- in 1980. The
tunes on this album were written since then. To prepare for recording them, I
made tapes for Brad, and scheduled some rehearsal time. He learned each tune
in this way, until it became part of his personal musical language.
Brad has a beautiful clarinet sound, warm and equally satisfying in all
registers, masking his wonderful technical ability with a lyrical,
conversational style. He makes it sound easy, but such musicianship can come
only after many years of playing experience.
Frank Carlberg transcends all of the cliches of modern jazz piano, while
still sounding grounded and swinging. With Frank, every note counts.
Chris Van Voorst Van Beest has a strong beat, huge ears, and great taste.
You'll be hearing a lot from him in the 21st century!
Steve
Steve remembers things a lot better than I do, but we go way back to the old Sunday sessions at the Warehouse. I've watched with admiration as he developed as a drummer, taught himself piano, and became a nationally recognized composer. He has remained a loyal friend and has put up with me as I try to do justice to his challenging music. I'm really honored to have had this opportunity to record these wonderful compositions with musicians the caliber of Frank, Chris, and, of course, Steve.
Sincerest thanks, Young Grover.
Brad Terry