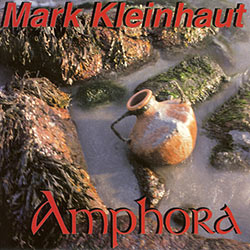 Tracks:
Suki's Web
Flowers and Flames
Illadroly
Miss Knows (it all)
Interlucent
Another Spring
We Never Knew
"…a guitarist whose sheer command of the instrument is on par with the jazz elite."
Bill Milkowski, Jazz Times
"Mark has written some really fine tunes and plays them with taste. This is quality."
-Jack Wilkins
Guitarist Mark Kleinhaut's CD, Amphora, street date April 15, 1999 is Kleinhaut's first album as leader, and debuts 11 of Kleinhaut original compositions, offering music of diverse emotions and influences. Amphora, demonstrates Kleinhaut's formidable chops, as he and the rhythm section have fun burning up the charts of his up-tempo tunes including Horse from the North as well as the title track. Mark's introspective side is demonstrated on ballads, like the evocative Illadroly and the hauntingly beautiful Forty-nine. Mark Kleinhaut is joined by Thomas Snow on piano, Phil Verill on drums, Annegret Baier on percussion, with bass duties shared by Josh Davis and John Hunter.
For further information, please visit: www.markkleinhaut.com.
Excerpt from liner notes by
Bill Milkowski, Jazz Times
A first-rate improviser as well as an accomplished composer, Mark Kleinhaut has fashioned a sampler of sorts that showcases his prodigious chops in the service of his evocative, mature compositions. On Amphora, he draws on vocabulary pioneered by such fabled plectorists as John McLaughlin, Al Di Meola, Pat Martino, Wes Montgomery and Lenny Breau. And yet, Kleinhaut's own voice rings true on this highly personal calling card.
On acoustic and electric guitar (a mellow-toned 1963 Gibson Barney Kessel fat body jazz box with double cutaway), Kleinhaut tempers his impressive facility with a compositional integrity that gives Amphora a musical depth beyond mere fretboard acrobatics. Together with Phil Verrill on drums, either Josh Davis or John Hunter on bass, Thomas Snow on piano and Annegret Baier on percussion, they forge a cohesive chemistry in a variety of musical settings ranging from fragile and introspective ("Forty-Nine") to urgently burning ("Horse from the North"), from soothing bossa nova ("Miss Knows") to straightahead swinging ("Another Spring") to open-ended and freewheeling ("Interlucent"). Each is its own separate story in this adventurous musical journey. "I've tried to cover a spectrum of emotions with the writing," says the composer. "So every tune is sort of a platform for jumping off into different spaces and different influences."