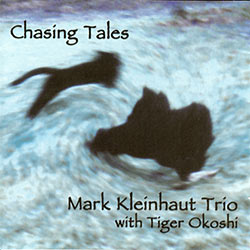 Tracks:
Cape Hatteras 6:51
Water Waltz 4:55
Erika's Living Room 6:12
Mousetrap 5:01
Bluejay 3:44
Aftermath 7:38
Three Olives 3:29
Talk to You Later 4:59
Cry Wolf 8:38
After Hours 8:00
Tiger Okoshi

,

trumpet and flugelhorn

Mark Kleinhaut, guitar
Jimmy Lyden, bass
Mark Macksoud, drums
All Compositions by Mark Kleinhaut except Erika's Living Room, by Tiger Okoshi
Copyright 2001 All rights reserved
Chasing Tales" (release date August 22, 2001) is the third release in three years by guitarist Mark Kleinhaut. In addition to his frequent collborators, bassist Jim Lyden and drummer Mark Macksoud, Kleinhaut has augmented his ensemble with legendary trumpeter, Tiger Okoshi. Having toured the world and recorded with Vibist Gary Burton, Roy Haynes, Steve Swallow and Bob Moses, and as leader of his group, Tiger's Baku, Okoshi's international reputation is firmly entrenched. Now, Okoshi brings his world-class touch to "Chasing Tales", a collaboration with Kleinhaut and company for a recording of new music that is beautiful and conversational. Kleinhaut's, continues with his nine new compositions the "tone-poem" and cinematic writing style he introduced on his previous 2 discs. His tunes, plus one penned by Okoshi, weave tales of varied landscapes exploring realms of human experience and emotions. Okoshi, Kleinhaut, Lyden and Macksoud are consummate story tellers who create a welcoming world as they share these tales with you, the listener.
To Read Reviews of Chasing Tales
All Music Guide
Bangor Daily News
All About Jazz, Reviewer Glenn Astarita
Jazz Review.com by Michael Laprarie
Jazz Review.com by Mark Keresman
Face Magazine
Excerpts from liner notes by Bill Milkowski
For his third album as a leader, guitarist Mark Kleinhaut joins forces with trumpeter Toru "Tiger" Okoshi, a versatile, crackling player and world-class jazz veteran. The Japanese trumpeter first gained attention playing with vibist-composer Gary Burton, which led to stints with George Russell's Living Time Orchestra and drummer Bob Moses. Throughout his string of fine recordings for the JVC (Japan Victor Corporation) label, Okoshi has frequently been in the company of great guitarists, including Mike Stern and Bill Frisell. Kleinhaut is a worthy addition to that impressive list.
An accomplished, highly regarded plectorist who has resided in Maine since 1988, Kleinhaut has shown an admirable command of his ax on two previous trio outings — 1999's Amphora and 2000's Secrets of Three. Expanding his regular trio of bassist Jim Lyden and drummer Mark Macksoud to a quartet with the addition of Okoshi's pungent trumpet work, he explores some deeper waters on this third release.
"What we're really doing with these tunes is telling stories," says Kleinhaut, which also explains the album's title Chasing Tales (although the cover photo provides an entirely different take on that same phrase). Each tune conveys a sense of place, an attitude, a particular mood. And in the course of crafting these pieces, Kleinhaut reveals a measure of growth as a composer. "Maybe it's just been a natural evolution from Amphora to Secrets of Three to this one," he reflects. " I'm also more familiar with the players and tend to write with them in mind. I've gotten to know Jim and Mark pretty well over the last couple of years, and then adding Tiger to the mix, that certainly raised the bar."