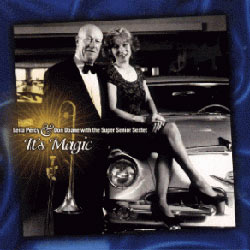 Tracks:
All I Do Is Dream Of You (Brown/Freed) 2:31
I Can't Begin To Tell You (Gordon/Monaco) 3:05
Don't Blame Me (McHugh/Fields) 4:07
Sister Sadie (Horace Silver) instrumental 4:40
It's Magic (Styne/Cahn) instrumental 4:20
Everything Happens To Me (Adair/Dennis) 4:05
When I Grow To Old To Dream (Romberg/Hammerstein) 3:28
Recado (Webster/Ferrira/Antonio) instrumental 3:09
A Tree In The Meadow (Reid) 4:17
Strolling (Horace Silver) instrumental (3:24)
When I Lost You (Irving Berlin) 3:08
Everytime We Say Good-bye (Cole Porter) 4:07
Song For My Father (Horace Silver) 5:29
Say It Isn't So (Irving Berlin) 3:42
Jumping With Symphony Sid ( Young/Beeks) instrmntal 3:24
Since Tommy's Gone (Les Harris Sr.) 6:34
Personnel:
Leila Percy, vocals
Don Doane, trombone
Ralph Norris, saxophone
Joe Laflamme, saxophone
Gerry Wright, piano
Al Doane, bass
Paul Jensen, drums
Leila Percy's sultry velvet vocals are perfectly matched with the arranging handiwork of Don Doane. Doane, whose credits include the Maynard Ferguson, Woody Herman and Bobby Hackett bands renders authentic big band stylings within this more intimate context of the sextet. The result is a warm set of superbly executed favorites that wears comfortably, like a welcome visit from an old friend. This session is brimming with the classics as well as a couple of Horace Silver compositions, and the set closes out with an original composition in tribute to the late Tommy Gallant, another Woody Herman alumnus who was for many years based in Portsmouth, NH until his death in 1999.