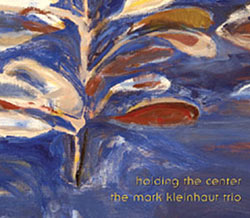 Tracks:
Intro to Sister Cuba 1:20
Sister Cuba 4:30
Baby R 3:27
Holding the Center 6:43
Holiday 5:10
Forgotten Song 4:13
Erika's 8:30 Rule 3:58
Logical Extension 3:59
Green T 5:22
Passing Bird 4:00
Gospel of B 7:30
Rock & Sand 2:23
Personnel:
All compositions by Mark Kleinhaut
all rights reserved, © (P) 2006 BMI
"Jazz guitar aficionados should get to know about this closely-knit, swinging unit from the pine tree state led by one of the truly brilliant guitarists on the jazz scene today."
-Bill Milkowski
Holding the Center (IM-2035) is the Mark Kleinhaut Trio's masterful follow-up to their 2003 release, A Balance of Light, which featured world renowned saxophonist Bobby Watson (JazzWeek Top 20, Feb. 2004). This latest offering from guitarist Mark Kleinhaut demonstrates his unparalleled technical skill on the guitar while thirteen eclectic compositions take the trio into new directions, drawing on influences outside of jazz to expand their palette of improvisational inspirations. Kleinhaut's new compositions, designed around beautiful melodies especially appealing to the jazz newcomer, incorporate electronic, rock, and world music elements to create some of Kleinhaut's most engaging music to date. The dynamic chemistry between Kleinhaut and long time collaborators Jim Lyden (bass) and Les Harris, Jr. (drums) is electric, as they groove effortlessly between slamming backbeat numbers like "Baby R" or "Rock and Sand" straightforward swingers like "Holiday" or the Monkish "Green T" and delicate bossa novas like "Shells on Ancon Beach" or "A Passing Bird." Lyden and Harris provide a solid platform for Kleinhaut to launch some scorching improvisational pyrotechnics—his solo on "Holiday" for one—and to explore his own inner meoldicism. Holding the Center is fresh yet hauntingly familiar, cerebral and fun too.
Liner notes from Holding the Center:
More than ever before, jazz has become a global language, spoken with remarkable fluency and flair in such far-away reaches as Italy, Finland, Poland, Japan, Spain and Russia. So why not Maine? Granted, it is a several-hour trek by car from Mark Kleinhaut's home base in the Portland-Brunwick area to New York City — still the jazz hub of the world. But Kleinhaut, a New York native born in the Big Apple in 1957, brought with him a depthful understanding of the jazz guitar tradition, along with an uncanny command of his instrument, when he moved to that northeastern-most state in 1988 after having thoroughly absorbed the New York experience while studying with such jazz masters as the late Ted Dunbar and the rest of the outstanding faculty at Rutgers which included Frank Foster, Kenny Barron and Larry Ridley.
The influence of those heavyweight players was apparent on Kleinhaut's previous four recordings — 1999's Amphora, 2000's Secrets of Three, 2001's Chasing Tales with special guest trumpeter Tiger Okoshi and 2003's Balance of Light with special guest alto saxophonist Bobby Watson — each one highlighting his dazzling facility, sophisticated harmonic sensibility and infinite capacity to burn. This time out, the accomplished guitarist-composer reflects some more recent influences in his most dynamic and eclectic offering to date. The uncanny technique, which is nothing short of jaw-dropping, and inherently jazzy sensibility are still very much intact on this collection of originals documenting the comfortable chemistry of his working trio with longtime bassist Jim Lyden and drummer Les Harris Jr. But there are some new guitar influences coming to bear on Kleinhaut's fifth outing as a leader. Perhaps chief among them is Pat Metheny, whose influence can be readily heard on the bouyant title track.
In an unprecedented move for Kleinhaut, the guitarist delves into some ambient loopage on the evocative title track and also triggers some intriguing synth washes on the wistful brushes ballad, "Forgotten Song." But his most obvious departure from past guitar tones occur on "Erika's 8:30 Rule," where he affects a rotary Leslie type sound that falls somewhere between Charlie Hunter and John Scofield, and also on the raucous, distortion-laced finale, "Rock and Sand," where he makes like Mahavishnu Mark Kleinhaut to close out the proceedings with a roar.
Kleinhaut's rhythm section of Lyden and Harris (both of whom appeared on Balance of Light) is flexible and responsive enough to shift from slamming backbeat numbers like "Baby R" or "Rock and Sand" to straightforward swingers like "Holiday" or the Monkish "Green Tea" to delicate bossa novas like "Shells on Ancon Beach" or "A Passing Bird." Lyden, who alternates between electric and upright bass, is also featured prominently as a soloist on several pieces (including a dramatic bowed solo on "Holding the Center") and he carries the melody throughout the melancholy ballad "Gospel of B." Harris, an inveterate swinger, makes a seamless transition from his lightly interactive touch on "Holiday," "Green Tea" and the easy swinging "Logical Extension" to a more solidly grounded approach on "Erika's 8:30 Rule" and "Rock and Sand" to his understated rhythmic accompaniment on the alluring bossa nova "Shells on Ancon Beach" or the clave fueled opener "Sister Cuba."
Regardless of context, two qualities ring true throughout this very eclectic offering — Mark's inescapable penchant for melodicism and his astonishing six-string facility. On every tune here, his solos are the stuff that other guitarists would marvel at. Whether he's blowing effortlessly over changes with rhythmic assuredness and boppish flair, nonchalantly doubling tempos at the drop of a hat or moving chordal voicings with precision and grace, Kleinhaut exhibits the chops, melodic ingenuity and improvisational daring of a world-class jazz guitarist.
The swirling loops on "Holding The Center" and the synth washes behind his solo on "Forgotten Song" are all done by Mark in real time through a savvy use of a Boss looper and GT-6 processor patched through three volume pedals to conjure up his version of Frippertronics. Even the turntable scratching heard on "Erika's 8:30 Rule" is being triggered through Kleinhaut's looper, thanks to samples provided by turntablist Andrew Zachary, who jammed on the tune and recorded scratch tracks that were later filtered and loaded into Mark's looper.
Yet another color that Kleinhaut brings into the mix is the velvety warm sound of nylon string acoustic guitar, which opens Holding The Center on "Sister Cuba." This guitar is a Cuban made instrument Mark picked up in Havana when he traveled there in February of 2004. In the background are the sounds of children playing in the cobblestone streets of Trinidad, Cuba – kids just having a ball, unaware that Mark had turned on his minidisc recorder that one particularly hot February afternoon.
Kleinhaut's trio also clearly had a ball recording this album. The enthusiasm and level of comfort that they have with each other is obvious from track to track. Jazz guitar aficionados should get to know about this closely-knit, swinging unit from the pine tree state led by one of the truly brilliant guitarists on the jazz scene today. –Bill Milkowski
Bill Milkowski writes for Jazz Times and Jazziz magazines. He is also the author of "JACO: The Extraordinary and Tragic Life of Jaco Pastorius"(Backbeat Books), which is now available as an updated and greatly expanded 10th Anniversary Edition.
Reviews of Holding the Center