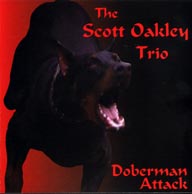 Tracks:
Jaki's Walk Home
Baltimore
Doberman Attack
George's Gorge
May We Live in Peace
One for Hakim, H. Ruiz
Sibling's Folly
Tune for Pedro
Waltz for Willy & Wing
Saturday Night Sermon
Taylor Made
Touched by Darkness
Sidran
A Castine Romance
Personnel:
Scott Oakley piano
Jim Lyden, bass
Les Harris, Jr., drums
On his latest CD Doberman Attack (street date April 15), pianist and composer, Scott Oakley has recorded a collection of gems composed over the last twenty years.
Influenced by mentors Jaki Byard and George Russell, his harmonic concepts and melodic wit render memorable compositions of striking beauty. Scott's favorite format, the trio, provides an intimate platform from which he departs on flights of fancy. Featuring: Scott Oakley, piano; Jim Lyden, bass; Les Harris, Jr., drums.