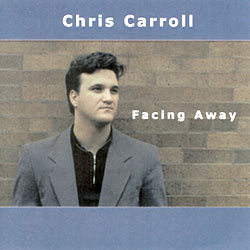 Tracks:
Shadow Dance
Scene
Sound of Love
Un Muy Bonita
You and the Night and the Music
Old Folks
Brilliant Corners
Unit
Goodbye Porkpie Hat
Personnel:
Mike Filice : Saxophone
Carlo Derosa : Bass
Jon Ballantyne : Piano
Bruce Saunders : Guitar
Steve Salerno : Bass Guitar
Chris Carroll : Drums
Facing Away is the debut compact disc release from the up and coming New York City drummer/producer Chris Carroll. Carroll has recorded nine fresh and exhilarating jazz standards playing with an acoustic quartet and an electric trio. Carrol seques seamlessly between the formats, creating a multi-level sonic landscape on this adventurous recording.
The accoustic quartet features pianist Jon Ballantyne (Joe Henderson), tenor saxophonist Mike Filice (Kenny Wheeler), and acoustic bassist Carlo Derosa (Ray Baretto). The electric trio features guitarist Bruce Saunders (Jack DeJohnette), and electric bassist Steve Salerno (Ray Anderson).
Carroll's arrangements provide for dynamic drumming on Facing Away. Check out his afro-latin rhythms in multi-meter on Ornette Coleman's "Una Muy Bonita". Tom Harrell's "Scene" tips delightfully, while the members of the quartet converse and interact with each other. "You and the Night and the Music" shakes and rumbles aggressively. The band explodes as pianist Ballantyne creates thick harmony to carry the screams of saxman Filice. On Facing Away the listener detects something other than talented drumming in Carroll's musical persona.
For further information, please visit: www.chriscarrollmusic.com.