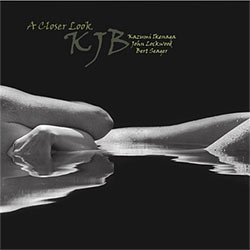 Tracks:
Don't Go
I Remember You
My Romance
Summer-Night

Audio clip: Adobe Flash Player (version 9 or above) is required to play this audio clip. Download the latest version here. You also need to have JavaScript enabled in your browser.

O GrandeAmor

Audio clip: Adobe Flash Player (version 9 or above) is required to play this audio clip. Download the latest version here. You also need to have JavaScript enabled in your browser.

Three Candles
All Or Nothing At All
Bolivia

Audio clip: Adobe Flash Player (version 9 or above) is required to play this audio clip. Download the latest version here. You also need to have JavaScript enabled in your browser.
Total time: 56:53
Recorded and mixed at PBS Studio, Boston Massachusetts
on February 15, 16 & 17, 2006
Copyright 2006 All rights reserved
Personnel:
Kazumi Ikenaga drums
John Lockwood bass
Bert Seager piano
The music on this new CD, KJB's second, expresses a quiet warmth. In their use of rich harmony and singable melodic improvisation, one senses immediately that the sounds were made with great care and love. The quality of the listening is what draws one into the space of the music on this recording. This music, though based in the traditions of jazz piano trio, has a breathing conversant quality where interaction rather than role-playing is emphasized.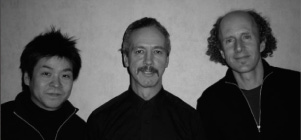 L-R Kazumi Ikenaga, John Lockwood and Bert Seager
On this, our second CD, we chose to take a closer look at some tunes
that we have loved and played for years. In recording these takes
on two consecutive February afternoons (all first takes, except for
the new tune "Don't Go"), by simply choosing a new tempo
or time signature, we gave ourselves the opportunity to hear
these songs in a fresh way. Listening deeply together
with my old friends, John, Kazumi and I could more easily
enjoy the trust and creativity that arose naturally,
and it became a little clearer why we play.
Bert Seager