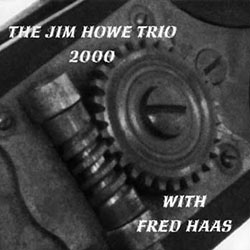 Tracks:
Everything I Love (4:13)
How Deep is the Ocean (6.46)
Savoy (6:58)
Doxy (7:42)
Nobody Else But Me (4;52)
A Child is Born (5:03)
The Very Thought of You (5:53)
Good Bait (6:52)
The Best Thing for You is Me (4:05)
Cry Me A River (6:49)
Dream Dancin' (4:40)
Personnel:
Fred Haas, saxes
Chris Neville, piano
Jim Howe, bass
Les Harris, Jr., drums
All songs used with permission
On Saturday October 13, 2007 our friend and colleague Jim Howe passed away. We were honored to be a part of Jim's musical life and admired his passion for jazz. Jim shared his love of music with all who came in contact with him, and he helped to create a Jazz oasis in Portsmouth, New Hampshire that fans and musicians alike will be forever grateful. Please click here to read more about Jim Howe.