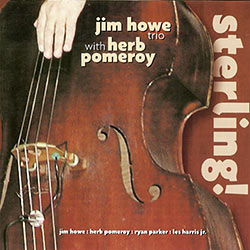 Tracks:
Sweet Sue, Just You (7:03)
Come Rain or Come Shine (5:15)
Why Are You Blue (8:41)
Sweet Lorraine (6:04)
Our Delight (4:36)
Come Sunday (9:00)
Gravy Waltz (3:26)
Blues for Milt (6:29)
Sweet and Lovely (7:04)
It Ain't Necessarily So (6:39)
Invitation (7:53)
Personnel:
Herb Pomeroy

,

trumpet

Ryan Parker, piano
Jim Howe, bass
Les Harris, Jr., drums
All songs used with permission
Liner Notes
Liner Notes
Jazz generally is considered to be an urban art, so doubtless it comes as a surprise to newer fans that Jim Howe is domiciled not in the Athens of America or the Big Apple but in Hanover Maine, a town in the northwestern part of the state whose population is catastrophically reduced when Jim leaves for a gig. That his Thoreau-like lifestyle is no impediment to his artistic vitality is confirmed in the lengthy roster of stellar performers for whom his nimble fingers have strolled the strings with such urgency and taste. Much of this activity took place in his rote with the late Tommy Gallant's trio, with the traditions of which Jim continues in the committed company of Ryan Parker and Les Harris, Jr.. and a parade of distinguished guests; certainly among the most illustrious of these is Herb Pomeroy.
Herb's musical voice is probing, authoritative, and an inspiration to all around him. His career as a performer and teacher is vast and inclusive; (as Casey Stengal would say, "You can look it up!"), and he constantly reinterprets the results of that experience with reflection and integrity commanding the highest respect.
Aside from the empathic relationship of this alert and incisive trio with its perspicacious guest, much of the story of this disc is in the tunes. Current improvisatory habits often ignore the melodies themselves, focusing instead on the chord changes and scalar possibilities almost as abstractions. But if the given melodies contain motives, gestures. contours, and/or rhythms which engage the performer's interest (even if his imagination leads him to contradict them!), we have the best of both worlds, as they say, – and each listener's prior knowledge of the tunes contributes as well to the aesthetic interaction.
This is the kind of raw material with which Jim Howe and company like to work, and no artist is more sensitive to this approach than Herb Pomeroy. No matter how bold his ideas may be, Herb is essentially a lyric player, and he uses the full expressive range of his instrument to that end – sound, dynamics. vibrato, mutes, etc. He has been a mentor to Ryan Parker whose own ideas reflect a similar immersion in the heritage of his instrument. And we should not overlook the melodic instincts of Les Harris, Jr. (a quality hardly epidemic among young drummers!), or the fact that Jim's robust bass lines dissolve into solos exposing the soul of a songbird, however earthbound.
This music and its fresh treatment in such skilled hands communicates immediately. but one can also look forward to the subtle treasures revealed by repeated listening. For example. although everything seems to flow very naturally, the formats differ greatly, and their individual shapes, the peaks and valleys in the sequences of events, make each selection much more than just a series of choruses. And do not miss the copious evidence of how well they listen to one another!
Now to just a few of the numerous points of interest along the way. Sweet Sue is an oldie (1928) by Victor Young (who 18 years later presented us with a very different lady indeed, Stella By Starlight). The quartet introduces itself mainly in straight-on swinging fashion, colored by Herb's mute. However, when we move on to Harold Arlen's usually bluesy Come Rain or Come Shine we are startled by the fast tempo, the near-wildness of the intro, and a completely unexpected atmosphere. Ryan stretches out admirably, and note how Herb suggests the tune without articulating all of the notes.
Another surprise awaits us in a tune most of us have never before encountered, the pensive Why Are You Blue? Composed by vibist Gary McFarland (d. 1971) as a feature for Lennie Johnson, remembered as the formidable lead trumpet in Herb's big band circa 1960, it was subsequently recorded both by Johnny Hodges and the Modern Jazz Quartet. Herb's plunger work is groovy, increasingly expressive, and doubtless deeply felt.
Sweet Lorraine is certainly a standard, but not the product of any of the usual suspects; there Is, however, a Maine connection, it having been written by Cliff Burwell who was Rudy Vallee's pianist -(maybe that is why Jim gets the melody on the bridge!) The swing is relaxed, but Ryan covers acres of territory, and Herbs energy is compelling. Our Delight has yet a different flavor; it originally being a chart by Tad Dameron for Dizzy Gillespie's 1950s big band, Ryan fills out Herb's lead on the head as if to recapture the qualities of that idiom. Don't miss the stimulating conversation involving Less drums!
Ellington's Come Sunday began its life in the late '40s as a moving Johnny Hodges alto solo in Black, Brown, and Beige and took on other characteristics in the Sacred Concerts, also emerging as a 32-bar ballad. The shape of this performance is particularly impressive, like an expansive arc. Ryan sets the mood beautifully Herbs vibrato has its own eloquence. and he really opens up in his second chorus; Jim reflects as the piece moves toward a quiet close.
The trio atone does Ray Brown's Gravy Waltz, in 4/4 time yet. It has the rhythmical polish of a group that has truly jelled as an entity; Ryan's between-the-hand cross-rhythms are a special kick!
Blues For Milt, a dedication from German composer Frits Landesbergen to the memory of the
great vibist Mitt Jackson. alternates between the keys of C and E-flat, which sets up some fascinating ambiguities in reference to blue notes. Real magic is worked with this relationship; (don't try to understand it just enjoy!) Gus Arnheims gorgeous ballad Sweet and Lovely retains its slow tempo but with an almost Ray Charles-like rhythmical feel. subtly mixing actual triplet figures with understated suggestions of same. Neat!
It Ain't Necessarily So from Gershwin's Porgy and Bess – "not your typical jazz tune" – is a gem. The piano lays out at the start, Jim gets the first solo, Herb's playing approaches a puckish quality, and the flavor of the whole could be an interpretation of the human ambiguities in the text.
Invitation by Polish-born and educated Bronislau Kaper is a tune with unusual intervals in its melody and rich chord changes deployed so spaciously that groups frequently are drawn to such devices as Latinized accompaniments. Not so here where the driving beat more than suffices. Ryan's activity is arresting, and Les's solo is convincingly "melodic".
As the CD ends we hear strains of When You're Smiling fade into the distance, as a tribute to Tommy Gallant who did so much to catalyze the jazz community of which Herb, Jim, Les, and Ryan -each born in a different decade – are a continuing part. It was the last tune Tom played in public – and he would have loved this album, which leaves us all smiling.
Paul Verrette
New Hampshire Library of Traditional
Jazz at the University of New Hampshire
Herb Pomeroy and Jim Howe
On Saturday October 13, 2007 our friend and colleague Jim Howe passed away. We were honored to be a part of Jim's musical life and admired his passion for jazz. Jim shared his love of music with all who came in contact with him, and he helped to create a Jazz oasis in Portsmouth, New Hampshire that fans and musicians alike will be forever grateful. Please click here to read more about Jim Howe.